KUTHUMI WAS SAINT FRANCIS OF ASSISI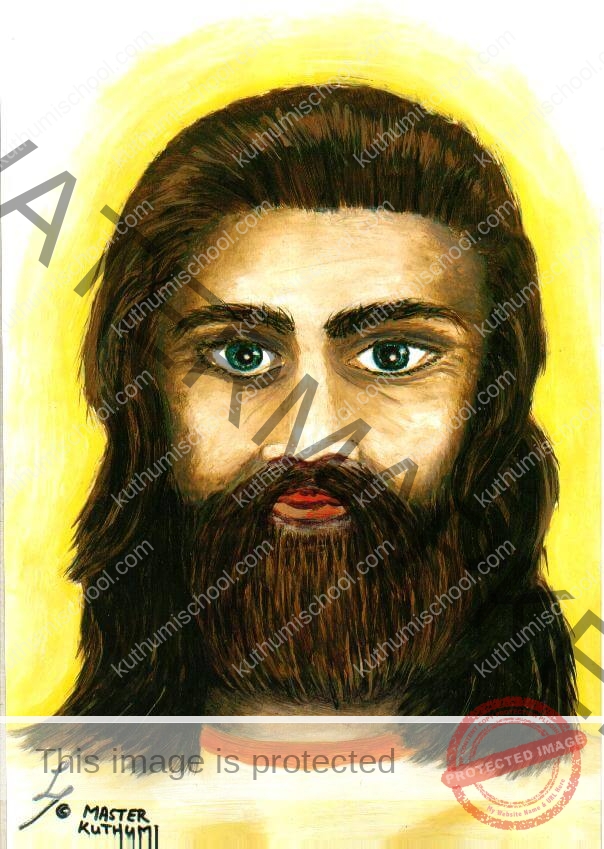 Many of you are aware that Master Kuthumi was Francis of Assisi in a previous life. His message in that lifetime was a life simplicity, prayer as substance, and acknowledging Christ.He loved nature and animals, particularly the birds. Legend says on his deathbed St. Francis thanked his donkey for carrying and helping him throughout his life. His donkey wept. You may find this strange that a donkey would know, but animals do know and are very aware. In many channeled readings with Kuthumi I often talk to animals who have crossed over and – they always talk to me and give proof of survival, just as humans who have crossed over do. As we come to the anniversary of the passing of St. Francis of Assisi on October 3/4th, I wanted to share more details of his life, his beliefs and what he held dear. As you know he has now ascended and is a member of The Great White Brotherhood, also known as The Council of Light. These names are due to the massive White Light which surrounds each member. Again in service to God, they come together to guide humanity to a better way forward — in peace, love and Light. They come from all walks of life experiences while incarnated on Earth, and all religious experiences. A wonderful example of Unity, togetherness, love and compassion for all. We call their teachings Higher Wisdom, providing a path of Enlightenment for all who seek. In the world turmoil we are now experiencing their Teachings are more important than ever. All Light workers and Star seeds are united in restoring the Faith, the Light, the wisdom of your true Spirit self, your Soul, in Union with the creator God to all who seek and are ready to awaken.
The Ascended Masters through Lynette Leckie-Clark
Chosen Channel of Kuthumi
---
FRANCIS OF ASSISI was born 26 September 1181 in Assisi, Italy, one of seven children. His father, a rich cloth merchant, was away on business so his mother had him baptized as Giovanni di Bernardone. However on his fathers return to Assisi, not being pleased with his son's name, his father decided to call him Francesco (Francis.) Rebellious of his fathers business and love of wealth, Francis spent his youth lost in books and became fluent in several languages.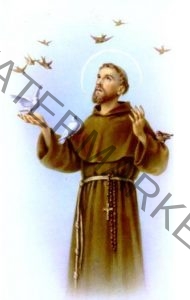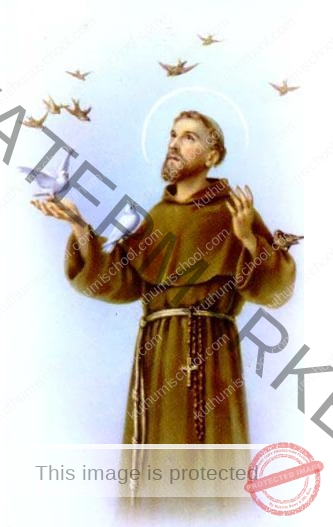 Later, he was to be found often drinking in the company of his friends, mostly made up of the sons of local noblemen. In 1201 Francis joined the military, but was taken prisoner for a year in Collestrada. He returned to Assisi in 1203. In 1204 Francis suffered a serious illness but recovered. In 1205 Francis again enlisted in the army. However he saw a 'vision' and returned to Assisi. It is at this time his spiritual quest was born. He began nursing Lepers and begged at church doors for the poor. In a church, on the outskirts of Assisi, Francis said he had a mystical experience where the Icon of Christ Crucified said to him three times, " Francis go and repair My house which as you can see is falling into ruins." Francis thought this was the church where he was currently praying. Francis sold his horse along with cloth from his fathers store for the purpose. His father, Pietro, was furious and tried to bring Francis to his senses with corporal punishment. Francis renounced his father and lived as a beggar for the next few months on the outskirts of Assisi. Returning to the town during the next two years, Francis restored several ruined churches. among them was Porziuncola, little chapel of St. Mary of the Angels,which later became his favorite abode.
In 1208 Francis heard a sermon that changed his life and he devoted himself to a life of poverty. He began to preach repentance. He was soon joined by his first follower. In a year Francis had eleven followers but he chose to never to be ordained as a priest, and he and his community lived as 'lessor brothers' in a simple life wandering the mountain districts of Umbria always cheerful and full of song. In 1209 Francis led his eleven followers to Rome to seek permission from Pop Innocent 111 to found a new religious order which was granted. His new order grew quickly. In 1213 Francis received the mountain of La Verna as a gift from Count Orlando di Chiusi. This would become one of Francis's favorite retreats for prayer. It was around this time Tommaso da Celano joined his order along with several noblemen. Tommaso would later write the biography of St. Francis. In 1217 the growing number if friars was divided in provinces and groups were sent to France, Germany, Hungary, Spain and to the East. In 1219 Francis and a few companions made a pilgrimage to Egypt, being received by the sultan Melek-el-Karmel who allowed Francis to preach to his subjects after Francis issued the sultan with a challenge by fire. On 29 November 1223 the final rule consisting of twelve chapters, of the order was approved by Pope Honorius 111.
Suffering an eye disease, and having received the stigmata, (the five wounds of Christ) Francis was brought back to Porziuncola and the transito, the hut for infirm friars. Feeling the end approaching Francis spent the last days of his life dictating his spiritual testament. He passed on the evening of 3 October 1226 singing Psalm 141.
Psalm 141 –
O Lord, I call to you, come quickly to me. Hear my voice when I call to you. May my prayer be set before you like incense, may the lifting up of my hands be like the evening sacrifice. Set a guard over my mouth, O Lord, keep watch over the door of my lips.
His feast day is celebrated on 4th October. On 16th July 1228 he was pronounced a Saint by the next pope, Gregory 1X. The next day the Pope laid the foundation stone for the Basilica of Saint Francis in Assisi. Francis is also known as the patron Saint of Animals.