2019 Part Two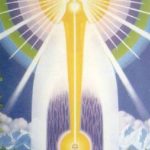 Hello everyone and a very Happy 2019 to you.
Master Kuthumi has given me his second message for this year 2019. The subject was quite a surprise to me at first, but as I thought about it, it made perfect sense.
After the many changes most of us have experienced lately Master Kuthumi in his magnificent wisdom took us back to basics – the Self.
We often forget about ourselves, and yet we can do little if any of our bodies are unwell.
So it does make perfect sense because 2019 is the year we need to lay firm foundations for the next two years, 2020 and 2021.
I feel Master Kuthumi's words make us stop and think about not only about what we eat, but also the quality of food. The meditation given takes you through a cleansing and overview of your three bodies, physical. emotional and mental. A handy exercise to carry out monthly for overall health.
Latest  Channeled Meditation from Master Kuthumi
To Your Magnificence
In this amazing meditation Lynette guides you through the eyes of the Ascended Masters, viewing your 3 bodies, physical, emotional and mental. Clearing, releasing and viewing your own temple which holds these three bodies. Release and empower yourself from a higher perspective. See yourself as the Masters and spiritual guides do. This is an important exercise to do monthly to enable you to release and hold the Golden Light of Source any time you choose.