Current Channeled Teaching
---
Changing Times and Karma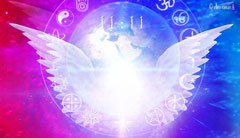 I greet you in  the vibrational rays of Light and Oneness.
I am so pleased to meet with you once more.
I have asked this one to come today so I can speak to you on the matters of change and karma.
As we, (the  Brotherhood ) watch and observe we see the vibrational level of the planet rising. This is very encouraging for the planet and also for each of you.
During your current year for many of you, much has come to fulfillment, often through struggle and adversity. I want to say to you that from struggle comes growth. You see you have a survival gene within you. Usually it is this gene which triggers the need to get through your challenges, to overcome the hurdles before you. It is this, along with your Higher Self and the Light flow in the atmosphere which all combine to give you the strength and sometimes even the solution to enable you to step forward.
---